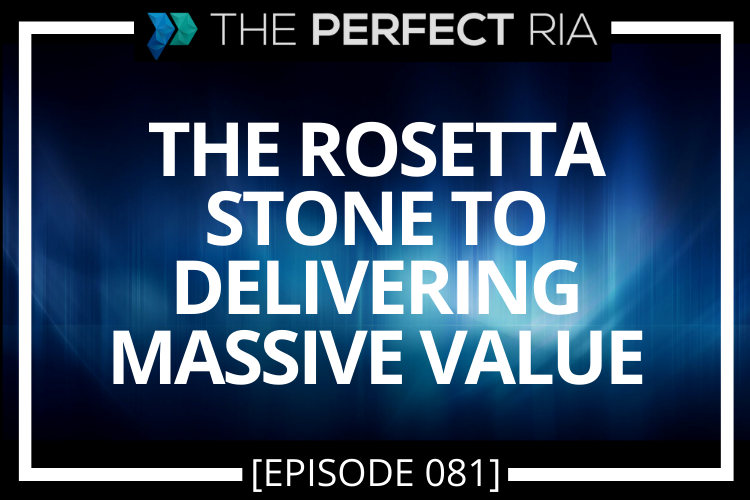 The Rosetta Stone to Delivering Massive Value [Episode 81]
Do you want to be a hero to your clients? If you answered yes to that question, then ask to see their tax returns. One of the biggest expenses in retirement is taxes—and paying more than your fair share does not make you more patriotic. So today Matt and Micah are delving into taxes and breaking down how you can use tax returns to deliver massive value to your clients.
Listen in as the guys share why you should be asking for your clients' tax returns, as well as what to look for on those returns. You'll learn what their top go-to strategies are to save clients money and score some major brownie points. This is part one of a two-part episode, so make sure not to tune in today and next week!
Listen to the Full Episode:
What You'll Learn In Today's Episode:
Why financial advisors should ask to see their clients' tax returns.
Things to consider when looking at a tax return.
How to plant the seeds for future tax planning and what to watch out for.
Planning strategies you should consider.
Why understanding each client's tax tolerance is important.
How to utilize tax events to a client's advantage.
Value-added services you can use with your clients.
Important action items to up your game in the tax realm.
Ideas Worth Sharing:
Don't give me time; give me a deadline. - @ThePerfectRIA
Click To Tweet
If you can't articulate it, it doesn't matter. - @ThePerfectRIA
Click To Tweet
My job is to make sure that you pay the IRS every dollar that you owe, but that you don't leave him a tip. - @ThePerfectRIA
Click To Tweet
Resources In Today's Episode:
Enjoy the show? Use the Links Below to Subscribe: